How to Send a Contact
Scansfer makes it fast, easy, and secure to send contacts from your Android phone's address book to another person's smart phone, or to the web so you can share them with others or download them to your PC.
To send a contact, press the "Send Contacts" button from the main Scansfer menu.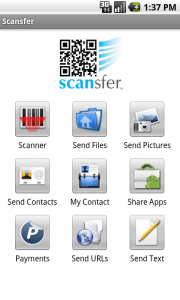 A list of all the contacts from your address book will appear.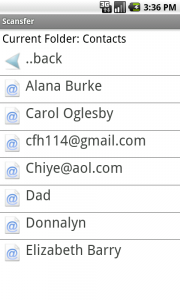 Select the contact you wish to send, and select whether you want to send the file to a Phone or to a PC.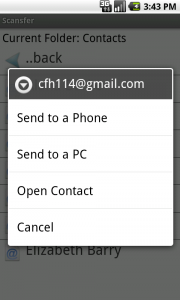 The contact will be "Scansferred" to our servers. If you are sending it to another person's phone, within a few seconds a QR code will appear on the screen. Have them scan the QR code with any bar code scanner, and the contact will be automatically added to their address book.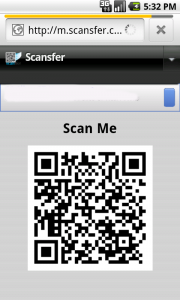 If you are sending the contact to a PC, the vcard will be uploaded to our servers, and you can download it at any time by logging in to scansfer.com from any PC. Note: you must register for a free account at scansfer.com in order to use this feature.