FAQ
What does Scansfer do?
Scansfer allows you to tranfser data and files easily between computers and phones, or your Android phone and another phone, through the use of QR codes.
Is there an Android app?
Yes. Click here to visit our page in the Android Market or scan the QR code below to install.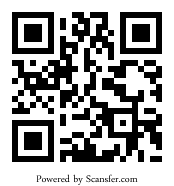 Is there an iPhone app?
It's already in development! If you'd like to be notified when the iPhone app is available, please contact us.
What is a QR code?
A QR code (short for Quick Response) is a type of bar code readable by cameras on mobile phones. You'll need to have some kind of camera on your phone, as well as a bar code scanner. [Read more about QR codes here]
How much does it cost?
Currently, all of our services are free